The Metropolitan Water District of Southern California is a regional wholesaler that provides water for 26 member public agencies serving 19 million people in six counties across Southern California. Like other water utilities around the United States, Metropolitan has had to find new ways to continue its operations during the COVID‑19 pandemic. In this interview, Shane Chapman, an assistant general manager and the chief administrative officer of Metropolitan, speaks with Municipal Water Leader about what the agency has been doing to keep its employees and customers safe while continuing operations during this crisis. 
[siteorigin_widget class="SiteOrigin_Widget_Headline_Widget"][/siteorigin_widget]
Municipal Water Leader: Please tell us about your background and how you came to be in your current position. 
Shane Chapman: I've been in the water sector for 28 years. I started at Metropolitan in 1991 and worked there for 20 years in various departments, including water resources management and planning, finance, and operations. In 2010, when I was the assistant manager of water system operations, I left to become the general manager of one of our member agencies. After serving in that role for 7 years, I returned 2 years ago to be Metropolitan's chief administrative officer and one of its assistant general managers. I cover information technology (IT), human resources, environmental planning, real property, security, and board administration, so some of the COVID‑19 responses are falling pretty squarely into my wheelhouse. 
Municipal Water Leader: Please tell us about the size and scale of your operations.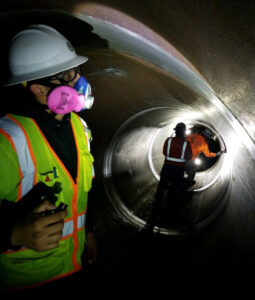 Shane Chapman: Metropolitan is a special district created by the state legislature. Its primary function is to import water from Northern California and the Colorado River, and it imports a little over half the water used in Southern California, which is home to 19 million people and a $1.6 trillion economy. We have five treatment plants, three of which are among the largest in the United States. We also support sustainability with recycled water, water conservation, and storm water capture. Since the mid-1990s, Metropolitan has moved pretty aggressively into water resources management and supporting its member agencies in their efforts to develop local supplies. That's a big part of our business now. Metropolitan has roughly 1,900 employees and a $1.6 billion annual budget that includes our capital improvements program, which runs about $300 million a year. As with many water agencies these days, most of Metropolitan's capital program is focused on refurbishing and rebuilding old infrastructure.
Municipal Water Leader: How has the pandemic affected your operations? 
Shane Chapman: Fortunately, there have been no disruptions in our treatment and delivery of water. That is our primary focus. Our water supply is safe, as it is throughout the country. As part of our emergency preparedness measures, we maintain backup equipment and supplies and keep fuel on hand to help ensure that our operations can continue without disruptions. Being located in Southern California, our principal emergency management paradigm is focused on preparing for large earthquakes, but we also maintain a pandemic action plan. That put us in a good position to respond quickly to this particular pandemic. 
Municipal Water Leader: What are some of the measures that you have taken in order to keep your customers and employees safe? 
Shane Chapman: Fortunately, as of today, we have had no employees test positive for the novel coronavirus. We have had some employees who self-quarantined under the direction of their healthcare providers because they were exposed to someone with COVID‑19, and we've been working with them to bring them back into the workforce once they've met all the conditions set forth by the Centers for Disease Control (CDC). 
We immediately put our employees into three basic groups. In the first group are employees who need to report to their normal working locations to operate and maintain critical and essential functions. Our water treatment plant operators and water quality lab staff are part of this group. We divided these employees into microteams of two or three people who are rotated in and out of work together and are only exposed to one another. Not only does that minimize exposure across staff, it also maximizes the pool of backup staff in the event that a team is exposed. 
In the second group are employees who can telework. On a typical day, we have over 800 people—well over half the workforce—accessing our network securely and continuing with their work remotely. As part of our resiliency planning for earthquakes, we work to ensure not only the physical integrity of our infrastructure and our ability to fix it quickly, but also the resiliency of our IT systems. We have been setting up capabilities for cloud computing, data storage, laptops, and network capacity. We have been building out these telework platforms over the last 2 years, and we had enough in place to get people up and running quickly. 
We use the last group to track our lost productivity. That's where we monitor employees who have been directly affected by the pandemic and need to care for family members and for children whose schools are closed and who cannot work a full schedule as a result. Our human resources department has been working directly with those employees to help them. Fortunately, that's been a relatively small subset of our workforce. 
We've also put a big focus on social distancing, masks, and the cleaning and disinfection of high-use areas and shared surfaces. We've developed backup control centers for our primary operations control center, where we manage all the hydraulics and the distribution system, and for each of the five water treatment plant operation control centers. That way, in the event that we have to disinfect one of those facilities, we can immediately switch operations to the backup location that's already clean while we address the situation. We've contracted with a disinfection and hazardous materials firm to be on standby in the event that we need to do such a cleaning. Fortunately, we have not had to do that. We've also paused a limited number of our capital projects that would require people to be too close together. 
Municipal Water Leader: Is this the first time you've had to test out your telework capabilities on a large scale? 
Shane Chapman: Yes. We were a bit nervous about it, but our system has held up well. We have secure access with all the cybersecurity protocols in place through a virtual provider network (VPN). Prior to this, 150–200 employees were routinely accessing the VPN, particularly those who travel a lot for work. We were able to boost that number to well above 800 within a week. We also quickly distributed laptops to employees who only had desktops in the office. Soon, about 80 percent of the workforce will have laptops. 
Municipal Water Leader: You mentioned that you already had a pandemic action plan in place. When did you develop it, and why?
Shane Chapman: We developed it in 2009 after the H1N1 swine flu outbreak. Nobody had pandemic plans then, and that new situation was pretty scary. Critical services like water and power utilities were required to develop these plans in response. I was working in operations at Metropolitan at the time and was tasked with helping develop our pandemic action plan. We worked closely with the CDC and the U.S. Environmental Protection Agency to put the plan in place. We've kept that plan up over the years. It's a rather general plan—the details depend on the particular virus or bacteria that you're challenged with—but it provides a framework. In this case, we were watching how the situation developed in China in December and January and started buying masks, asking questions, testing out our IT infrastructure, and putting a work group together to update the pandemic plan. In mid-March, we activated our emergency operations center (EOC) on a virtual basis. We continue to have about 50–60 people working virtually through the EOC. Today it's pretty quiet, but in March it was very busy. 
Municipal Water Leader: Is there anything especially innovative you've done to maintain your workflow? 
Shane Chapman: Our use of microteams has been critical for socially distancing onsite employees who are focused on critical, essential business functions like operations and maintenance. I've been impressed by how the employees have adapted to those schedules and work practices. It has also been helpful to have those standby operation control centers for our treatment plants and distribution system. That has provided us peace of mind. 
Municipal Water Leader: Do you expect any of the changes you have made to be retained after the pandemic is over?
Shane Chapman: Teleworking stands out. I've been impressed by how well our employees have used teleworking and kept up their productivity in their day-to-day work. It's been a challenge and has required adjustments for many. We allowed for some teleworking before, but not on a large scale. In today's world, many firms are principally telework operations, so it was rather easy for them to stay in that mode. COVID‑19 forced us to jump into it in a big way. I don't see us reversing that. I think people have recognized how it has improved their schedules, for example by eliminating their commutes. Managers who were once hesitant about telework and needed to see their staff face to face now understand its feasibility. There are lots of ways to encourage and support employee productivity remotely using available technology. 
Municipal Water Leader: What is your advice for other agencies? 
Shane Chapman: Just as in any emergency, you have to be prepared and ready to act. Plans are never perfect, but they force you to think about what could happen. You can't just have a plan, you have to exercise and test it. Every time you do, it makes the whole organization stronger and more resilient and the workforce more confident in what they're capable of accomplishing. Our operations department, where emergency management functions are housed, recently held a full-scale exercise for a simulated major earthquake. In our emergency response plan, particular individuals are assigned to particular roles, but that's not exactly how it is going to work in a major earthquake. You're not going to get all the right people in the right places at the right times. So in our recent emergency exercise, people were randomly assigned to different locations and roles and were forced to figure it out. That's just an example of the level of effort that we put into emergency management. It gives our employees the knowledge and confidence to respond well. Our employees are terrific. They've risen to the occasion: They're looking after themselves, their families, and each other. 
Shane Chapman is an assistant general manager and the chief administrative officer of the Metropolitan Water District of Southern California. He can be contacted at schapman@mwdh2o.com.