A
gri-Inject is a pioneer in the chemigation field. Since the 1980s, the Yuma, Colorado–based company has been promoting the use of mobile irrigation systems to apply fertilizer and chemicals in liquid form. This method of applications allows for the quick, low-volume, and continuous applications of liquid chemicals, which is particularly valuable for water-intensive crops like potatoes and vegetables.
In this interview, Erik Tribelhorn, chief executive officer (CEO) of Agri-Inject, speaks with Municipal Water Leader Editor-in-Chief Kris Polly about how Agri-Inject is educating farmers on the benefits of chemigation.
[siteorigin_widget class="SiteOrigin_Widget_Headline_Widget"][/siteorigin_widget]
Kris Polly: How long have you been with Agri-Inject?
Erik Tribelhorn: I've been with the company during two different stints, first from late 1991 to May 1999, and second from October 2011 to the present—about 15 years in total.
Kris Polly: Please tell us about your background and how you came to be in your current position.
Erik Tribelhorn: I am from northeastern Colorado, and I knew the founder of the company, Gary Newton, through his son, who was my age. I started at Agri-Inject in 1991 as my first job out of college. I started in an inventory control position and did whatever else was needed. The company was going through a difficult transitional time at that point, so there were a lot of gaps that needed to be filled, and I had a lot of opportunities to stick my nose into different areas and help out wherever I could. During those first few years, I worked my way up to general manager with ownership opportunities.
In 1999, I left the company for 12 years, during which time I was involved in a Valley Irrigation dealership, but I stayed on Agri-Inject's board of directors. That gave me the opportunity to keep my eye on the business. I've always been interested in the manufacturing business and the complexity and challenges that manufacturers face. In addition, I have investments in retail businesses, I have started multiple service businesses and a marketing business, and I was in the irrigation business from a dealership perspective. When I came back to Agri-Inject in October 2011 as the CEO, that experience helped me understand the mindset and expectations of our irrigation dealer channel. That gave us an edge in how we positioned our products and structured our programs.
Kris Polly: Where did you go to school?
Erik Tribelhorn: I started at the University of Colorado Boulder for my first year. I spent my sophomore year at Northeastern Junior College on a basketball scholarship. I spent the next 18 months at Colorado State University, but I didn't graduate. I was 18 or 21 credits away from a degree in business management when I ran out of money and decided to take a couple of years off and get some work experience.
I got so involved in business that I still haven't finished the degree; anyway, I felt that the experience that I was getting through my work was as valuable, if not more valuable, than taking the time to finish my degree. I learned a lot through my schooling, but I feel that the real-world experiences of running a business were of much greater value.
Kris Polly: Please tell us about Agri-Inject as a company.
Erik Tribelhorn: Agri-Inject was by founded in 1983 by Gary Newton, a farmer in the Yuma and Wray area of northeastern Colorado. Irrigation became prevalent in the area during the 1960s, 1970s, and 1980s. Mr. Newton recognized that it was possible to inject liquid chemicals and fertilizer into an irrigation system and apply those products simultaneously with the water.
Since electric irrigation was becoming more and more reliable at that time, the idea of chemigation was a viable one, and the business he had started on his farm kept growing. In the late 1980s, the company moved to Yuma, Colorado, and in 1991, it moved to its current facility. In the meantime, it acquired dealers around the nation and the world. Today, Agri-Inject employs 21 people and has over 400 dealers worldwide, regularly selling products across 6 continents.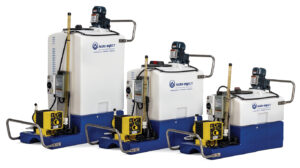 We have five major product lines, and we strategically offer numerous options and combinations for every final good. This allows any system to be customized optimally for a particular application. Features that can be changed include pump size, input power, material of construction, control technology, plumbing assemblies, and more. We can even produce private- label products with unique colors and logos for dealers and large customers since we do all of our own plastic molding in house. All our manufacturing is performed in Yuma, and our staff diligently manages the inventory required to ensure that we are meeting customer expectations. We try to serve our customers and our dealers within a 24- to 72-hour lead time, while dealing with vendor lead times that can range from 4 to 8 weeks. On the sales side, we deal with irrigation dealers, chemical fertilizer dealers, general farm supply dealers, seed dealers, chemical applicators, and more. We also have relationships with center-pivot manufacturers, domestic and international. All those companies do business in different ways and respond to programs differently. They have different seasonalities and unique ways in which they market our product. This business keeps us on our toes both operationally, given our product complexity and quick delivery goals, and from a marketing perspective, because of the varying nature of our sales channels and the ag economy in general.
Kris Polly: Why should farmers use chemigation?
Erik Tribelhorn: Chemigation, as its name suggests, is a process where two things are being done simultaneously: the application of water and the application of a chemical, be it a fertilizer, an insecticide, a wetting agent, sulfuric acid, or anything else. This is more efficient than doing the two things separately, both in terms of labor and in terms of material costs. It also saves a trip over the field, thus reducing costs, compaction, risk, and crop damage. Chemigation is accurate and precise for two reasons. First, today's irrigation systems and nozzle packages are typically highly engineered and reliable and deliver water
accurately with little waste. Second, our injection systems are extremely accurate and repeatable, time after time. This means that the applied chemical gets to the crop at the specified rate, on time, with extreme uniformity, without any skips or overlaps, and with minimal off-target application risk. With chemigation, the grower has control of his or her own timing and governs his or her own fate. The ability to feed the crop fertilizer according to its needs is an advantage for growers. It is good for plant health, soil health, cash flow, and the management of risk.
Further, if you apply all your fertilizer at once and you have a big rain event, that fertilizer could be washed away or driven down beneath the root zone. That danger doesn't exist if you apply it continuously. We like to say that the soil is a really poor place to store your fertilizer. Overapplying fertilizer early puts those nutrients at risk of leaching, changing form, or being inaccessible after a catastrophe like a hailstorm. Spoon feeding can mitigate such risks and is a good habit to get into. Changing habits is tough, but I think the benefits far outweigh the pain of changing management processes. When you spoon feed your fertilizer, you're spoon feeding your money. From a business perspective, that's a smart thing to do.
Kris Polly: What are Agri-Inject's main challenges?
Erik Tribelhorn: Our stated mission is to educate irrigating farmers to believe in and understand the validity of chemigation and fertigation. Our primary challenge is creating methods and materials that help growers understand that chemigation is a viable method of application and can be better than alternative methods, especially with certain crops, certain types of chemicals, and certain regions.
Kris Polly: What kind of trends do you see in fertigation and chemigation?
Erik Tribelhorn: I see that regulations and mandates are becoming more and more prevalent in the industry, certainly around water and chemicals but around nitrogen as well. It is critical that we keep our water supplies clean and soils healthy. I believe that responsible fluid injection can be a key component in addressing some of these issues. Applying chemicals in the water reduces off-target exposure. Applying nitrogen in amounts limited to what the plant can uptake will minimize runoff and leaching, protecting
waterways from contamination, with no effect on yield.
The industry is certainly heading toward automation, including in irrigation. Before automation technologies were introduced, if you had center pivots running, you had to check on those two or three times a day by driving out to the fields and verifying that the end towers were moving. Nowadays, with telemetry technology, you can do that from your phone. That technology is becoming reliable and has pervaded the industry. Our ReflexCONNECT product allows for the remote control and monitoring and the automatic documentation of chemigation and fertigation as well. We want to add value to growers with the connected features, including reporting, and to remove any pain or roadblocks associated with using this process.
Kris Polly: What are the areas of the United States where chemigation is not currently being used, but should be?
Erik Tribelhorn: Five or six years ago, there was a significant drought in the middle and eastern regions of the United States, and in response, a lot of irrigation systems were installed in that area, primarily as an insurance policy. Farmers there don't usually need to irrigate, but in extreme situations, the ability to do so could save their farms. What I hope they're now realizing is that those irrigation systems are also giant spray booms. They can use them to effectively apply insecticides, fungicides, fertilizers, and more. Those eastern U.S. farms may only use their irrigation systems for 100–200 hours a year, compared to totals upward of 1,800 hours in the West, but farmers should make the most of those 100–200 hours by applying chemicalsor fertilizers at the same time that they apply water.
The truth is that any place where irrigation is used is usually a candidate for some sort of chemical or fertilizer injection. The key to spreading the technology's use is education.
Kris Polly: What is your message to irrigators?
Erik Tribelhorn: You have a high-value irrigation device in your field that is well made and works at high levels of precision. Water is only one of the things it can be used to apply. With chemigation and fertigation, your irrigation system can treat your water, your soil, and any crops in the field, resulting in a tremendous benefit to your bottom line. Chemigation makes sense both economically and agronomically for every irrigating farmer.
Erik Tribelhorn is the CEO of Agri-Inject. He can be reached at erik@agri-inject.com.