Northwest Pipe Company is North America's largest manufacturer of steel water pipe systems. Since 2013, Scott Montross has been chief executive officer of the company. In this interview with Municipal Water Leader Editor-in-Chief Kris Polly, Mr. Montross speaks about the history of Northwest Pipe, recent developments in the large-diameter water-transmission pipe market, and the future of the public-private partnership (P3) funding model.
[siteorigin_widget class="SiteOrigin_Widget_Headline_Widget"][/siteorigin_widget]
Kris Polly: Would you please tell us about your background?
Scott Montross: I grew up in northeastern Pennsylvania, outside of Scranton. I attended Colgate University in upstate New York.
Kris Polly: Did you grow up in a steel family?
Scott Montross: Actually, no. My father was a state police officer and a sheriff. When I went to Colgate, where I played football, one of our alumni, Pete Love, was chairman of the board for National Intergroup, which owned National Steel Corporation. He had gone to Colgate and was involved in the football program, and he sent people to Colgate every year to interview for candidates to come and work for National Steel Corporation. That is how I got into the steel business.
Kris Polly: Please tell our readers about your background and the history of Northwest Pipe.
Scott Montross: I have 24 years of experience in the steel business with both National Steel Corporation and Oregon Steel Mills in various commercial and operating positions, from inside sales rep to vice president and general manager of a steel plant and ultimately executive vice president of multiple plants. For the last 7½ years, I have been at Northwest Pipe, starting out as a chief operating officer in 2011 and taking over as chief executive officer in 2013.
When you look at the history of Northwest Pipe, it is a company that started here in Portland, Oregon, over 50 years ago with one pipe mill. That mill got into the water transmission business, which is and has been the bedrock business of the company. The company grew through acquisitions of additional water transmission plants. In 1984, the company built a new plant in Atchison, Kansas, launching its tubular business producing agricultural and sprinkler pipe. The company went public in 1995, and in 1999 it purchased two additional tubing plants, one in Texas and the other in Louisiana; both were converted to energy tubular plantsin 2008. The plant in Atchison was converted into an energy-tubular plant in 2006, which is when we entered the energy-tubular business full force.
In 2013, we realized that we were a relatively small player in the energy business—number 7 or 8. We decided to focus solely on our core business, the water transmission pipe business. In 2013, we began the process of divesting our energy-tubular business and ultimately sold our oil country tubular business at the end of the first quarter of 2014. The line-pipe plant in Atchison, Kansas, was shut down at the end of 2016 and sold at the end of 2017, and at that point we became a pure-play water business.
Starting in 2015, the water business went into hibernation, with very low demand. We also saw some nontraditional entrants into the market, and it really put an ugly spin on our water business. We divested our Denver, Colorado, water transmission plant and went through a rough 3 years. During that period, we focused on shoring up the balance sheet, and we were able to build up cash by monetizing under performing assets. After a slow first half of 2018, we are now seeing the business start to improve. With a strong balance sheet, we had the ability to purchase one of the bigger players in the water transmission business and to create synergies and additional strengths through consolidation.
Kris Polly: In July, Northwest Pipe Company acquired Ameron Water Transmission Group, making Northwest Pipe the largest manufacturer of water transmission steel pressure pipe in the United States. Why did this acquisition take place, and what does it mean for the large water transmission pipe market?
Scott Montross: The water transmission business has had many players, many competing companies. We have recognized for a number of years that there would be tremendous synergies between Ameron and us if we could combine the companies. Frankly, we have been talking about this union for a number of years; it was not just a recent discussion. The company that owned Ameron made the decision to move on from its water transmission business and put it in the hands of a company that was in the business for the long term. In July, we closed on the purchase of the Ameron Water Transmission Group and created a company with a bigger footprint and additional product capabilities. It puts us in a much stronger position to better serve our customers.
Kris Polly: What changes or trends do you see taking place in the large-diameter water transmission market?
Scott: Montross: Our business is providing engineered systems to our customers, not just making pieces of pipe. We went through a period from 2004 to 2014 where we saw significant demand in the water transmission business. We are one of the only companies that reports financial results publicly in our market segment, and because during the 2004–2014 period results were strong, outsiders started to take notice. As a result, we had some nontraditional players that chose to enter the water transmission steel pressure-pipe market just as the market started to enter a downturn—a downturn that lasted from the beginning of 2015 all the way through the first part of 2018. It was a challenging period for all the traditional players in the market. However, after 3½ years, we are now seeing an upward trend in the volume of bidding opportunities. Total demand in 2018 is stronger than we have seen in many years. The nontraditional players that came into our market decided this was not the place for them and promptly exited the business. Along with the improving demand, we are seeing growing industrywide backlogs, which helps create a stable bidding environment.
Kris Polly: How has the large-diameter pipe market changed from the design-request perspective? Given that many of the pipe systems in America are reaching the end of their life cycle, do see you an increased interest in life-cycle considerations for longevity, coating, safety, and the like?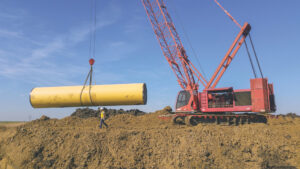 Scott Montross: There is always an interest from the engineers in creating and designing engineered pipe systems that will last longer, are safer, and can handle higher pressures. We have seen enough water main breaks to know the damage they cause. In the western United States, there is interest in designing pipe that can better withstand geologic events like earthquakes.
Kris Polly: What factors should water agencies keep in mind when planning large-diameter pipelines?
Scott Montross: Getting projects from the planning phase to the construction phase faster is going to be key in keeping our country's water infrastructure viable. A significant amount of our water infrastructure in the United States is beyond its useful life. Our water infrastructure in this country continues to deteriorate faster than we are replacing it. When you look at the current replacement rates, it will take twice the estimated lifespan of the existing system to replace. We are losing ground on this, so we need the project planning and execution to accelerate.
Kris Polly: Looking beyond the traditional funding mechanisms for infrastructure projects, how has the P3 model affected project development? Are P3 projects the future?
Scott Montross: We believe that they are going to be a part of the future. P3s appear to be more prevalent on the water treatment side of the business at this time. We have not yet seen a significant number of P3 projects in the water transmission business, except for the Vista Ridge Project that Garney Construction did with the City of San Antonio. However, we are hearing from California that the Santa Clarita Valley Water District's $1 billion Pure Water Program will potentially be a P3 project. We have found that there are a significant number of private entities ready to invest in the water business, but water has been relatively inexpensive. The question is, "Is there enough return for the private investor to justify investing in the business?" We think that it is going to be a part of the future. We are not quite there yet, but we appear to be heading in that direction.
Kris Polly: What is your message to Congress regarding water infrastructure?
Scott Montross: There has been a lot of discussion about the administration's new infrastructure program. Part of that program would focus on shoring up the country's water infrastructure. We would like to see the discussions turn into actions.
For more information, visit nwpipe.com.