To comply with a host of recent regulations, water quality professionals are turning to outside digital water companies like 120Water to help them execute water safety, compliance, and wastewater monitoring programs. Municipal Water Leader spoke with Megan Glover, cofounder, and CEO of 120Water, about how more than 300 water systems across the United States use the company's cloud-based software and digital sampling kits for everything from centralizing service line inventory data to end-to-end lead program management. 
[siteorigin_widget class="SiteOrigin_Widget_Headline_Widget"][/siteorigin_widget]
Municipal Water Leader: Please tell us about your background and why you started 120Water. 
Megan Glover: My background is not in water but in building cloud-based marketing, operations, and retail software technology. Immediately before starting 120Water, I worked in healthcare, building cloud-based technology for clinical laboratories. I started 120Water because I was a concerned water customer. In early 2016, I was horrified to watch the Flint, Michigan, water crisis unfold. I wanted to test my water, so I called my water system, but at-home consumer testing wasn't a service it provided at the time. It referred me to an environmental lab. We launched 120Water in 2016 to bring affordable laboratory water testing to anyone who wants to test their tap. 
Municipal Water Leader: What does 120Water do? 
Megan Glover: We are a digital water company. Our platform consists of cloud-based software, point-of-use kits, and services that water professionals at state agencies, private agencies, and water systems across the country use to manage water quality programs. The core of our business is municipal water systems across the United States, as well as nine statewide programs. We've grown from 3 employees to more than 70 today, which speaks to how critical water quality programs are to utilities across the country. 
When I first launched the business, we marketed directly to the consumer, no different from other box business models like 23andMe and Everlywell that make testing available to anyone at their doorstep. As we were launching 120Water, an overwhelming amount of regulatory change was happening at the municipal and state levels in response to the Flint crisis. I recognized that water systems were having to test water more, not only on the consumer side but also for schools and daycare centers. I wanted to see if we could interest any municipal customers in our products. Sure enough, within 6 months we had landed over $300,000 in contracts directly with municipal water systems, schools, and daycare centers. That's when we pivoted the business to focus our solutions on municipalities and facilities that were having to address these new regulatory demands. 
Municipal Water Leader: What is the significance of the company's name? 
Megan Glover: When we first launched 120Water, you could purchase our water testing kits through a subscription. Chemistry changes constantly, both within the distribution system and at your tap, so we sent subscribers a water testing kit every 120 days. Although our business model has changed, the name has stuck. 
Municipal Water Leader: Do you think the surge in demand for water quality testing is due to increased regulations or just a growing interest in public health? 
Megan Glover: In our industry—state and municipal water and water in general—regulatory requirements really do mandate change, for lack of a better word. We attribute a lot of our growth in customer acquisition and the adoption of the software in our kit squarely to the regulatory landscape. That includes the passage of the Lead and Copper Rule (LCR) and the mandate for every community water system in the United States to have a digital inventory of lead service lines, which is a requirement that's never existed before. 
Municipal Water Leader: What sets you apart from other companies that offer water quality testing? 
Megan Glover: Obviously, we have competitors—the amount of funds that are going to be spent on lead programs and the identification of lead pipes is drawing competitors out of the woodwork. Environmental consulting firms generally offer more of what we call a do-it-yourself approach for customers who want a custom system that is purpose built for their needs, which requires frequent recoding and retooling. We also compete with other technology companies on what we call point solutions, in which they do a piece of what we do. What sets us apart is that we strive to be an end-to-end platform, conforming to best practices and ongoing development needs. We modeled our approach on the best practices of our 300 customers who are doing the same program. 
Municipal Water Leader: How do you help water systems manage their lead removal work? 
Megan Glover: We are an end-to-end platform that our customers can use to use to manage all facets of their lead programs, from getting their data into one system to applying predictive intelligence to help prioritize the work. Often, that work is a plan to replace lead pipes. We also do water quality LCR compliance sampling and remediation, which includes customer communications and public transparency. Our customers use us as a workflow engine to get work done, from identifying lead pipes to completing the replacement and sampling requirements of the rule. Alternately, we can help with just part of that process. When the City of Newark, New Jersey, recently replaced all the lead pipes in its system, it used our water testing and pitcher filter kits to provide a safe alternative for drinking water. Our distribution system automatically drop-shipped pitcher filters and replacement cartridges on a recurring cadence to ensure that customers always had access to clean, safe drinking water while their service lines were being worked on.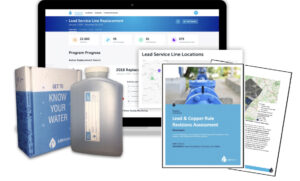 Municipal Water Leader: What is your current market? 
Megan Glover: Right now, we are laser focused on the United States. There's an overwhelming demand for what we do right now, given the regulatory and infrastructure landscape with the passage of the LCR and the 2021 Bipartisan Infrastructure Law. But data management and water quality are global issues, so there's nothing to preclude us from later expanding beyond the United States. 
Municipal Water Leader: Can customers still buy test kits directly from you? 
Megan Glover: Yes. Any individual can purchase a water testing kit from our website. However, I would say most of our demand comes from municipalities. Many of them either require testing or offer it to their residents through 120Water. 
Municipal Water Leader: Do municipalities offer that testing for free, or do they pass on a cost to their customers? 
Megan Glover: More times than not, they offer testing for free to their customers as a value-added service. It is an immense value-add to give customers peace of mind that their water is healthy. There's also regulatory testing, which of course they must cover the cost of. 
Municipal Water Leader: Aside from lead and copper, do you also test for such things as per- and polyfluoroalkyl substances (PFAS)? 
Megan Glover: PFAS are certainly an emerging area of concern. We have the capability to test for them, but we're waiting to see what the requirements of the market are before we make it commercially available. Our test kits are backed by the largest environmental lab network in the United States, one that we've been building over the last 6 years. That environmental lab network can test not only for lead and copper but can also do wastewater testing and wells programs for state health departments that involve testing 30‑odd parameters. We have the ability through our lab partners to test for things such as PFAS, but also to ingest those data into our software platform and provide our customers with real-time insights, identified by location, about how their programs are performing. 
Municipal Water Leader: Have you experienced any recent supply-chain issues? 
Megan Glover: Certainly. We are fortunate in that a lot of the goods that we use are manufactured here in the United States, but many of our suppliers rely on manufacturers across the globe to get them the materials that they need to make things like bottles and boxes, so we have seen some delays in getting our products. The great thing about the programs that we work on is that they're highly scheduled and predictable, so we've started just procuring more product than we normally would to make sure that we have the supplies we need on hand. We're also seeing costs rise about 30 percent right now, and we don't see that changing anytime soon. 
Municipal Water Leader: Today, many companies are having trouble hiring people. Has that been a problem for you as well? 
Megan Glover: Even the technology sector is not immune to the shortage of qualified talent out there. The market here in Indianapolis is highly competitive—everyone is vying for top technology talent. We're probably better off than most, because we've personally not had a ton of issues filling positions, but I don't see the situation getting better anytime soon. We're focused not only on capturing talent but also on educating the talent that we have. We want to help them develop the skill sets that we need, anticipating that it's not always going to be as easy to fill jobs. 
Municipal Water Leader: How do you foresee the future of water quality testing and compliance? Do you think demand for testing will continue to grow? 
Megan Glover: Providing clean and safe drinking water will always be a top priority for regulatory agencies, such as the U.S. Environmental Protection Agency, and for municipalities across the United States. As new variables come into play, such as the growing list of PFAS and the secondhand effects of climate change, the need for testing will continue to grow and evolve, as will the development of new technologies to treat the contaminants of concern. 120Water plans to follow along and continue adapting to the needs of the industry, serving as a go-to resource for water quality professionals now and for years to come.