Hays, Kansas, is located in an arid zone of central Kansas that lacks significant groundwater resources. During the 1990s, it became apparent that its existing water resources were insufficient for its consumption. Its initial response was to implement ambitious conservation measures, which succeeded in reducing its water use by a third, and to build a water recycling plant. Today, it is developing a new water source: a pipeline that will supply the city with groundwater from a former ranch. In this interview, Hays City Manager Toby Dougherty tells Municipal Water Leader about the city's efforts to guarantee a sustainable water supply for future generations. 
[siteorigin_widget class="SiteOrigin_Widget_Headline_Widget"][/siteorigin_widget]
Municipal Water Leader: Please tell us about your background. 
Toby Dougherty: I grew up in the little town of Lucas, Kansas, about an hour from Hays. I've been in Hays since 2005. 
Municipal Water Leader: Please tell us about your position at the City of Hays and your responsibilities. 
Toby Dougherty: The governing body of the city comprises five city commissioners. I am their one contract employee. I am tasked with running the city. 
Municipal Water Leader: What is the population of the city? 
Toby Dougherty: The population today is about 21,000. 
Municipal Water Leader: What are the top water supply issues for Hays? 
Toby Dougherty: As our city attorney likes to say, Hays is right in the middle of good water territory. If you go a hundred miles in any direction, there is good water. If you go north, south, or west, you hit the Ogallala aquifer. If you go east, there is reliable surface water flow. The Kansas City area gets around 44 inches of rain a year. In Hays, we get about 22 inches of rain a year. That means that in Kansas City, farmers worry about getting their corn and soybeans in because it's too wet, while in western Kansas, they struggle to grow dry-land crops on an annual basis. Hays is on the high plains, so it gets hot, it gets cold, there is a lot of wind, and it is dry. In an area like ours, with 22 inches of rain a year, the streams and even rivers have an intermittent flow. That is different even from the situation in an area like Salina, Kansas, 90 miles east of Hays. Salina gets about 30 inches of rain a year, which is typically enough to maintain perennial stream flow, even in small creeks. We are the only population center in Kansas that doesn't have an adequate local supply of water. Of the 35 counties in Kansas that have a population of more than 15,000, 34 of them are either east of the line from Salina to Wichita, which is the break point of reliable surface water flow, or lie on top of a major aquifer. 
In the 1950s, the City of Hays developed a well field about 12 miles south of town on the Smoky Hill River. Even then, the city government knew that it was a temporary solution. At that time, Hays had around 5,000 people. At that point, the city tried to put plans in the works for the next phase of outreach in order to obtain water. In 1991, the city ran out of water. The well field was not able to meet production, and the towers started going dry. This occurred during a relatively dry summer, not a multiyear drought. In retrospect, the main problem was that the city wasn't maintaining the well field the way it was supposed to. The short-term reaction was to panic. Then the city got serious about finding additional water. 
Municipal Water Leader: What has the city done to secure its water supply? 
Toby Dougherty: Beginning in the early 1990s, Hays invested heavily in water conservation programs. We were the first wholesale adopter of water conservation practices in the state. In the span of a few years, the city gave away over 20,000 low-flow showerheads and provided hundreds of thousands of dollars for low-flow toilet programs. At that time, the federal government had not mandated any liters-or gallons-per-flush standards. The city also heavily subsidized high-efficiency washing machines. It put ordinances in place that prohibited outdoor watering between 12:00 p.m. and 7:00 p.m. in June, July, August, and September and prohibited significant runoff of water from people's property. That made people pay attention to their water usage. 
Today, the City of Hays consumes about 2,000 acre-feet of water a year. Before the conservation practices were begun, our yearly use was closer to 3,000 acre-feet and once hit 3,600 acre-feet. The drop from 3,000 to 2,000 was accomplished simply through conservation. 
When I came to Hays in 2005, the city was still riding the high of the successes of the 1990s. I became familiar with the system and just kept working within it. In 2011, I went to the second WaterSmart conference in Las Vegas, a conference hosted by the Southern Nevada Water Authority that brings together the key players in water conservation in the desert Southwest, the mountain West, and any other areas that are focused on conservation. At the conference, I realized that we were behind the curve. We were still focused on our past successes and were giving away 3.25-gallon-per-minute showerheads because that was the height of technology back in the 1990s, even though there are shower heads today that use less than a gallon per minute. 
When I came back from that conference, we hired a water conservation specialist, just like communities in Arizona, California, and Nevada that were serious about their water conservation efforts did. Then we started seeking out best practices. We modeled our landscaping regulations on those of Salt Lake City and adopted various practices from communities in arid areas. We were the first city in Kansas to implement comprehensive landscape regulations related to water conservation and to implement the green plumbing code, which also supports conservation. We totally revamped our showerhead program, our washing machine rebate program, and our toilet program. We instituted the first cash-for-grass program north of Texas and east of Colorado. Through that program, we pay people to rip out irrigated turf and replace it with warm-season grass or xeriscaping. We kept investing heavily in our conservation programs, and as a result, we've continued to increase our population, but not at the expense of our usage. 
Municipal Water Leader: What do you pay per square foot for removing lawns? 
Toby Dougherty: In the first round of our program, we paid $1 per square foot up to 1,500 square feet. We just increased that to 3,000 square feet. We took the bare bones of that idea from Las Vegas. 
Municipal Water Leader: Please tell us about your water recycling plant. 
Toby Dougherty: We invested heavily in the 1990s in reuse water. Right now, we irrigate a golf course, our sports complex, and several baseball and soccer fields with recycled water. On an annual basis, we reuse about 30 percent of our produced effluent for irrigation. 
Our water recycling plant processes about 2 million gallons a day (MGD) of water. We just rebuilt the plant last year at a size that takes into account our projections of future growth, so its full capacity is about 46 MGD. 
Municipal Water Leader: In addition to conservation and water recycling, is the City of Hays developing new water sources?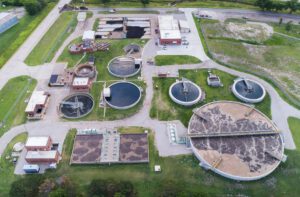 Toby Dougherty: When the city had its water crisis in the 1990s, the obvious reaction was to go out and find more water. Unfortunately, we're in an area where there is no water available. After a couple of years of looking, we realized that this was not going to be a quick fix. We were not just going to be able to build a pipeline, scale up our well field, or find a new source on tap. Kansas water law can be pretty contentious, and there are a lot of areas that are overappropriated, meaning that there are more rights than there is available water. 
In 1995, the R9 Ranch, which is located in Edward County, about 70 miles from Hays, came up for sale. The ranch was about 7,000 acres in size and came with approximately 8,000 acre-feet of water rights. At that point, it was the largest contiguous tract of water rights for sale in the state, so the city government bought it. The following year, the City of Russell, which is 20 miles east of Hays and has similar water issues, bought an 18 percent stake in the R9 to support its long-term water supply. 
The governing body spent roughly 20 years continuing to consider every available option. In 2014, it finally came to the realization that there was no better option than the R9 Ranch, even though the regulatory process was going to be difficult and expensive. In 2014, I was given formal approval to begin the regulatory process developed by the R9, and in 2015, we filed the initial paperwork. We are still in the midst of the regulatory process and have a couple years left to go. 
The project itself involves a roughly 70‑mile pipeline that would connect the 12 municipal wells at the R9 Ranch to our well field south of town at the Smoky Hill River. We'll also build a short interconnect to Russell's well field. The R9 Ranch had 44 irrigation pivots that have been removed from the ground; that area has been converted back to native grass.
Municipal Water Leader: What are the dimensions of the pipe? 
Toby Dougherty: I believe the initial estimates envision 24‑inch pipes. We didn't want to undersize it and be forced to add a second pipe during the full build-out, but we also didn't want to oversize it. We're looking at transporting 1,500–2,000 acre-feet of water from the ranch on an annual basis. Once we get to full scale, the pipe could push out 5,000 acre-feet a year if needed with no problem. 
Municipal Water Leader: Would you tell us about the status of the project and the next steps you will take? 
Toby Dougherty: Whenever more than 2,000 acre-feet of water is moved more than 35 miles, a series of statutes known as the Kansas Water Transfer Act kicks in. Any such transfer requires the approval of a three-person panel composed of the secretary of the Kansas Department of Health and Environment, the head of the Kansas Water Office, and the chief engineer of the Kansas Division of Water Resources. 
We are 5 years into this project, and we haven't reached the regulatory halfway point yet. We're still finishing the first leg of the regulatory process, which is changing the water rights from irrigation to municipal usage. That process culminates with a master order from the chief engineer of the Division of Water Resources, which governs the conditions of the conversion of irrigation rights to municipal rights. That order was issued over a year ago. We only have one opponent in this process. It's a group of irrigators east and southeast of us called the Water Protection Association of Central Kansas, which believes that this is harming their members. They asked a judge to perform a judicial review on the master order. We are in the middle of that. COVID paused the in-person procedures, but we have hearing scheduled for October of this year. We hope to have confirmation from the judge shortly after that. 
Municipal Water Leader: What is the predicted timetable for completion of the project? 
Toby Dougherty: I would say, optimistically, 24–36 months. We intend on moving pretty quickly. We hope to complete the transfer process within a couple of years. As we near completion, we will start the design. 
Municipal Water Leader: What is your message to decisionmakers and to Congress about your project? 
Toby Dougherty: The Cities of Hays and Russell are going above and beyond what's required by law to be good stewards of the land and to do what's right for future generations. There's no requirement in Kansas law for water use to be sustainable. Kansas water laws are based on the doctrine of prior appropriation—first in time, first in right. If a person applies for and perfects a water right in the state of Kansas, they can pump that water whether it's sustainable or not. Hays and Russell have agreed to reduce our available water rights in order to comply with the sustainable yield of the property. Hays and Russell are being held to a higher standard than most of the agricultural and industrial interests out there when it comes to water right conversions. Hays and Russell have no intention of using the ranch in an unsustainable manner. It wouldn't be good for future generations, and it would make our $80 million investment a bad one. The R9 is extremely important for us as a water source. It is going to provide water for generations in the Hays and Russell area. 
We also have 7,000 acres of the distinctive sand hill prairie environment at the ranch, and we are doing everything we can to convert it to a native sand hill prairie environment. We have a rangeland management specialist on staff whose sole responsibility is to advocate for the grass and the environment. We are working with the Kansas Department of Wildlife, Parks, and Tourism to figure out how we can best use this property for the public good. The governing bodies of Hays and Russell want to make sure that this is not only a water source for us, but a unique benefit for the state of Kansas.