Adel Hagekhalil is the new general manager and CEO of the Metropolitan Water District of Southern California, the regional wholesaler that delivers water to 26 public member agencies serving 19 million people in 6 Southland counties. The leadership of an agency as large and significant as Metropolitan brings many challenges as well as opportunities to improve the quality of life of millions. In this interview, Mr. Hagekhalil tells us about Metropolitan's efforts to ensure water reliability, integrated water management, and affordability for its 5,200 square-mile service area. 
[siteorigin_widget class="SiteOrigin_Widget_Headline_Widget"][/siteorigin_widget]
Municipal Water Leader: Please tell us about your background and how you came to be in your current position. 
Adel Hagekhalil: I have a passion for water and over 32 years of diverse experience in the industry, working on initiatives that include integrated water planning. I also have worked for many years to elevate water awareness and have led many programs on green infrastructure, One Water initiatives, and storm water programs across our region and at the state and national levels. I spent 10 years as the assistant general manager of Los Angeles's Bureau of Sanitation, where I led the city's wastewater collection system, storm water and watershed protection program, advance planning, and facilities. I also helped develop the city's 2040 One Water L.A. plan, a regional watershed approach to integrating water supply, reuse, conservation, storm water management, and wastewater facilities planning. 
In 2018, Los Angeles Mayor Eric Garcetti asked me to lead the city's Bureau of Streets Services, where I worked toward the goal of reforming the department and boosting morale, but most importantly, integrating a multibenefit climate adaptation program that provides solutions to enhance the quality of life for local communities. 
I love my career. I tell people I'm an engineer, but I'm also a people person, and I think good communication is important. I'm all about collaboration. All my life, I have worked really hard to integrate innovation into what we do, to build consensus, and to enhance stakeholder engagement. I am committed to providing excellent service to our member agencies and everyone in our service area. I'm proud to be able to share my skills and my knowledge with the industry at this crucial time and to move us forward to address the next 100 years of Metropolitan's future. 
Municipal Water Leader: Would you tell us about Metropolitan's history and describe its mission and service area? 
Adel Hagekhalil: Metropolitan was formed in 1928 as a collaborative of cities with a purpose to bring people and agencies together to bring water to Southern California—originally by building the vast infrastructure that is the 242‑mile Colorado River Aqueduct. In the 1950s, recognizing the need for additional supplies to meet growing postwar demands, Metropolitan signed on to contract for water from Northern California via the State Water Project (SWP). Over the years, our agency has grown and adapted to become the region's water planner, ensuring a reliable water supply through conservation and local resource programs and continuing to invest in our imported water systems. Today, we serve 26 member agencies, which in turn deliver water to 19 million residents in Los Angeles, Orange, Riverside, San Bernardino, San Diego, and Ventura Counties. 
I am really proud to work at an organization that has helped make the region the thriving place it is today. We continue to pursue that mission for the communities we serve. We have employees working in facilities spanning our 5,200-square-mile Southern California service area, all the way to Lake Havasu on the Arizona-California border. Our system includes 5 water treatment plants, 830 miles of pipelines, and about 400 service connections with our member agencies. We have a great team of innovators—people who think outside the box. We are anchored by our collaboration with each member agency, and we leverage our resources to deliver safe, reliable water to the region. 
Municipal Water Leader: What is your vision for Metropolitan's future? How will you address challenges from climate change and future droughts? 
Adel Hagekhalil: I believe our efforts over our nearly 100‑year history have served us well, but we are now seeing a change in the climate, resulting in more frequent dry, hot periods. Our playbook in the past has been to rely on the snowpack of the Rockies and the Sierra to slowly melt and fill our reservoirs and canals. That has completely changed with climate change. This year, we had 80–90 percent of our normal snowpack, but the runoff that made it into our reservoirs was 30–35 percent of normal. That tells us that things are changing. I believe that what has worked throughout our history is not going to sustain us for the next century. 
Metropolitan's job is to adapt to this new normal to create a resilient future water supply that is not affected by the changing climate. This is where I feel my experience in climate adaptation and integrated planning can help. I'm going to work hard on a One Water approach that brings people together, captures more water locally, uses our groundwater and surface reservoirs, captures our storm water, and recycles our wastewater. Our goal is to create a future in which when people turn the faucet on, no matter what's going on with the climate, they have water at an affordable cost. We need to develop a fourth aqueduct that is not a physical pipeline, but a combination of local resources and conservation that creates a new, sustainable water supply for Southern California. We need to ensure that we are saving and reusing every drop of water we have. 
Municipal Water Leader: In the more immediate term, what is Metropolitan doing to help ensure water reliability for the region as it faces a historic drought? 
Adel Hagekhalil: The good news is that Metropolitan, our board leadership, and our 26 member public agencies have done amazing work to increase our local water supplies. About 50 percent of the water we use in our region is locally sourced. Further, residents in Southern California have really listened to the call for ongoing water conservation. The amount of water we use today is the same we were using 30 years ago, despite a growing population, and that's really helping us manage our future. 
Infrastructure investments we've made over the years are also helping us remain resilient as we face a historic drought and other challenges related to climate change. One example of Metropolitan's forward thinking is our Diamond Valley Lake reservoir, located near Hemet in southwestern Riverside County, which began operating in 2000. Right now, the water in that lake is a backstop for us as we confront the shrinking of the water supplies in our Northern California and Colorado River sources. Diamond Valley Lake was a $2 billion project; that is the kind of investment we need. 
Metropolitan had 3.2 million acre-feet of water stored at the beginning of 2021. We're going to draw on that by the end of the year and are projecting to use about 700,000 acre-feet to help mitigate the current drought. 
Every drop of water that we save today is water that we can store and make available for use in the future. For this reason, our board voted to declare a water supply alert to send a signal to our region that we need more conservation. Residents have done a great job lowering water use, but we need to look for new ways to build on that progress to get through this drought. Metropolitan continues to explore new programs and opportunities to support those efforts. 
We also are exploring ways of ensuring that every member agency we serve has a reliable supply of water, particularly those that might not have access to diverse water sources, which is concerning during times of drought. We have the opportunity to work together to meet the needs of these agencies. For example, the City of Los Angeles, which typically is served by water from the SWP, is taking increased amounts of Colorado River water instead to make more SWP water available for the agencies that rely on it. That partnership and collaboration is what Metropolitan is all about. 
For me, the focus right now is planning ahead for the possible scenarios that could pose risks to our water supplies and mitigating those risks. For example, even if we get rain next year and the year after, our changing climate will require us to think differently and to take action now to address those challenges. I see our job as reducing our water use; building more connectivity; creating new, reliable sources of water in our region; and creating more storage, especially in our groundwater basins.
Municipal Water Leader: What actions is Metropolitan taking to increase local water supplies? 
Adel Hagekhalil: Metropolitan has been investing in local water supplies for the last three decades by incentivizing our member agencies to build local projects. Now we are embarking on our own Regional Recycled Water Program. It is a partnership with the L.A. County Sanitation Districts that would purify wastewater from the county's Joint Water Pollution Control Plant in Carson, allowing us to reuse water that is currently being sent to the ocean and create a sustainable, drought-proof water supply for hundreds of thousands of families in Southern California. We are currently operating a demonstration facility that could become one of the nation's largest advanced water treatment facilities. 
I believe that every drop of water in Southern California needs to be recycled. It will really be a game changer. That's the future, and we need to continue working together regionally under the Metropolitan umbrella. 
Municipal Water Leader: What are your thoughts regarding the historic drought on the Colorado River and the expected reductions of water deliveries from Lake Mead? 
Adel Hagekhalil: The situation that we are all facing in the Colorado River basin is serious. By working with our partners on the river to add water to Lake Mead through various conservation and supply investments, we've been successful in delaying a shortage until this year. However, beginning next year, the federal shortage declaration in Lake Mead will affect Nevada and Arizona. Although California does not face immediate effects, we expect to in the coming years as conditions worsen. This situation is a wake-up call for us to accelerate our progress toward our goal of developing more local supplies and to push our region to conserve even more. Our partnerships with our agricultural partners and the tribes and states that rely on the Colorado River will be more important than ever.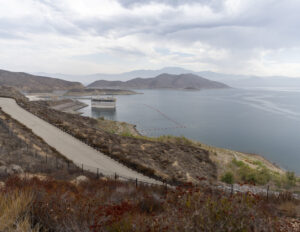 We are beginning negotiations on a new set of guidelines to promote the sustainability of the Colorado River. All of us need to work together to invest across our region in water recycling, storage, and new ways of conserving water in agriculture. I'm optimistic about that. 
We also need Sacramento and Washington, DC, to invest in us. Reliability requires money, and we need to invest in our water systems if we are going to be able to ensure clean, safe, and affordable water resources for communities throughout the Southwest and in California. 
Municipal Water Leader: What does the State of California need to do to make SWP supplies more reliable, and how is Metropolitan supporting those efforts? 
Adel Hagekhalil: We need to reduce the SWP's vulnerability to earthquakes and to seawater intrusion. Together with the other SWP contractors, we are working hard to protect our Northern California water supplies. I support modernizing our conveyance systems to ensure that they are more resilient. At the same time, there is a lot of tension between environmental, urban, and agricultural water users. I believe that we can come together to find a balance and decide how much water should stay in the Sacramento–San Joaquin
Delta and how much water can be supplied for other uses. I think the state should invest in protecting the delta, and restoring the environment and the fish habitat is an important part of that. I'm optimistic, because the current administration is working with the water contractors, the environmental community, and nongovernmental organizations to create a sustainable and reliable delta. I think we can do it together, but the only way is to make the tent bigger and bring everybody in. 
In Southern California, we're going to make a difference by investing in local water supplies and storage along the SWP and upstream of the delta so that we can capture and store more water from Northern California during wet years for use in drier years. All these things have to come together to ensure the reliability of these supplies, and we all have to be at the table to create balance. 
Municipal Water Leader: Would you tell us more about the meaning of the One Water approach? 
Adel Hagekhalil: One Water refers to breaking down silos; engaging stakeholders; and developing an integrated, diversified water portfolio for everyone that generates multiple benefits. It's good for the future of the economy and good for our water resiliency. It also saves money, because we're leveraging resources rather than planning independently. 
One Water is an effort that I led in Los Angeles for about 15 years before it became a national effort supported by the U.S. Water Alliance and other organizations. It means bringing together recycled water, potable water, storm water, and wastewater and viewing them all as one system. If you can bring the supply and the demand into balance, you can meet the needs of the future. 
Municipal Water Leader: What are you doing internally to ensure that Metropolitan continues to be a strong leader in the water sector for the next generation? 
Adel Hagekhalil: Since our formation, Metropolitan has been a leader and has brought people together. Now, we have a Mulholland moment in which we need to bring people together again in the face of climate change. Metropolitan must once again demonstrate leadership in this effort. 
It's not about what's in it for Metropolitan, an individual member agency, or an individual person. We need to think about our community as a whole, and Metropolitan should lead the way with integration, innovation, and inclusion. I believe strongly in our ability to reach a resilient water future. I've seen the young professionals across our region with an interest in water management, and I'll tell you, we're in good hands. 
I believe our One Water Southern California planning effort will create something that makes people in the future look back and say, "Those guys in 2021–2022 were visionaries who were ahead of the game and were able to provide us a sustainable water future." 
Municipal Water Leader: You have a collective approach to your leadership. How do you go about bringing together agencies and individuals that have different ideas and are sometimes in conflict? 
Adel Hagekhalil: I believe in collaboration. This involves trusting each other, not surprising people, and bringing people together. I endeavor to reach out and knock on every door to engage people in every step of process. This is a value Metropolitan provides to every member agency, because at the end of the day, we all share one goal. We all want to provide a resilient, sustainable water supply at affordable rates. Collaboration is what has made Metropolitan special. When we bring resources together, we can move forward. With a shared vision and shared commitment, which I know we all have, we can come together. What has made us strong and has enabled us to build our majestic infrastructure is that we have come together. Together, we can build the future. I want to engage people, empower people, and call people to action. I think they will respond. 
Municipal Water Leader: Please tell us about your goals for disadvantaged communities. 
Adel Hagekhalil: One of the goals that I share with our board and many of our member agencies is to ensure that no one is left behind. When we are investing and bringing in water, it should be for every resident, every business, and every member agency. A large portion of the communities in our region are disadvantaged and underserved with this resource. 
We need to ensure that they have equitable access to clean, safe water and to rebates that will help them conserve water. Some of the rebates Metropolitan offers require larger, upfront purchases for appliances like high-efficiency clothes washers and dishwashers or for removing grass and replacing it with turf. 
We want to find a way to support everyone in saving water, particularly in ways we haven't really tapped into. Fixing leaky pipes from the main lines to homes, especially in underserved communities, is critical. People talk about lead pipe issues, but nobody talks about leaky pipes. Our goal is to put money toward leaky pipe repair. It will create jobs and save water. I'm excited that we have a renewed commitment to focus on our underserved communities and ensure that there is no one left behind. 
Adel Hagekhalil is the general manager and CEO of the Metropolitan Water District of Southern California. For more on Metropolitan, visit www.mwdh2o.com.