The American Concrete Pressure Pipe Association (ACPPA) does research, outreach, and advocacy to promote the use of concrete pressure pipe and to promote the availability of state-of-the-art technical knowledge among its member companies, consultants, and utilities. Over the past several decades, its research has answered many pressing questions about different materials' potential for corrosion and deterioration and how to make them more resilient. Spreading and implementing the results of this research has provided real advances in the longevity and reliability of U.S. infrastructure. 
In this interview, Richard Mueller, P.E., president and chief executive officer of the ACPPA, speaks with Municipal Water Leader about the work of the association and his vision for the future. 
[siteorigin_widget class="SiteOrigin_Widget_Headline_Widget"][/siteorigin_widget]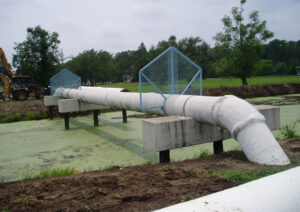 Municipal Water Leader: Please tell us about your background and how you came to be in your current position. 
Richard Mueller: I started in the concrete pressure pipe business as a product engineer with Gifford Hill American in 1977. I did design work and oversaw quality control. I eventually became vice president of engineering and marketing. While I was in that position, Gifford Hill American, which was half-owned by Ameron and half-owned by what used to be Gifford Hill and had been bought out by Hansen, was totally consolidated under the Hansen name. With the change of ownership, I left the company. I worked for myself for a while doing structural evaluations and foundation design and then worked as a lobbyist for transportation infrastructure for about a year and a half. Then Ameron was beginning to develop fiberglass pipes for municipal applications and wanted to know if I would be interested in participating in that. I went to work on the fiberglass side of Ameron for about a year and then moved over to be in charge of the production of concrete and steel pipe and wind towers. I was vice president of manufacturing for a bit and later became the president of Ameron Water Transmission Group. Then Ameron was purchased by National Oilwell Varco. I survived under that regime for about a year, and then they decided they wanted their own people. I left and wasn't sure that I was going to work for anybody else, but then the president of the ACPPA left and the association members asked me to come on board. I've been here for almost 6 years. 
Municipal Water Leader: Please tell us about the ACPPA and its history. 
Richard Mueller: The ACPPA has been around for about 70 years. Four basic kinds of concrete pressure pipes are manufactured today: two types of reinforced concrete pipe, one with a cylinder and one without; prestressed concrete pipe; and bar-wrapped concrete pipe. The latter two, prestressed concrete pipe and bar-wrapped concrete pipe, are the most common types of concrete pressure pipe sold today. The purpose of the association is to promote the use of concrete pressure pipe and maintain customers' and clients' access to technical information.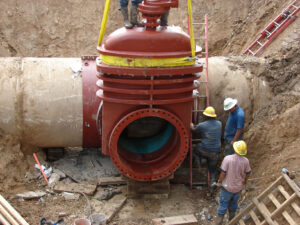 Municipal Water Leader: Who are the association's member agencies? 
Richard Mueller: We have four members: Decast and Forterra Pipe in Canada and Thompson Pipe Group- Pressure and Northwest Pipe in the United States. We also have an associate member, Rangeline, which does field work and is experienced in modifying, tapping, and repairing concrete pressure pipelines. 
Municipal Water Leader: How are the members' views and concerns communicated to the association? 
Richard Mueller: We usually have an annual meeting toward the end of the calendar year and a midyear meeting that is associated with the American Water Works Association (AWWA) conference. We also typically have monthly or bimonthly conference calls to make sure we're all on the same page. 
Municipal Water Leader: Is the association exclusively active in the United States, or does it go beyond that? 
Richard Mueller: Right now, our members are all in the United States and Canada. We have had interest from producers in the Middle East, China, and India. We have contact with all of them; I like to keep in touch with them because we've learned a lot here in the United States about the corrosion process in various kinds of ground. We want that information to be readily available to pipe manufacturers around the world. If they are interested, so are we, and we want to maintain a technical correspondence at the very least. 
Municipal Water Leader: Please tell us about the activities of the association. 
Richard Mueller: We do outreach and advocacy, and we have also done and sponsored research. There was a time when not much was known about prestressing wire and the characteristics that make wire more or less resistant to corrosion. Back in the 1980s, we were very involved in research on wire production, the kinds of drawing lubricants that were used, and the kinds of testing that should be done to ensure that wire is corrosion resistant. We've also done a lot of research on mortar linings and mortar coating—different additives that improve performance and service life. We have a thrust restraint design program that is unique to the industry. The American Society of Civil Engineers is now coming up with a manual of practice on thrust restraint design, and the thrust restraint design procedure that the ACPPA developed is the basis for its manual of practice. We also did a lot of research around 1990 on the development and design process for prestressed concrete pipe. As an example, depending on where you cast it and what the environmental considerations are, before the pipe goes into the ground, you may have a measurable amount of concrete shrinkage. If so, that should be considered when the amount of prestressing is calculated. Now the effort before us is to maintain a continuity of information, especially as the population ages. We see, not only in our own companies but also in the municipalities, that experienced staff are retiring. We need to make sure that new hires are aware of the capabilities of all the different materials and that they are putting the right types of pipe in the right circumstances.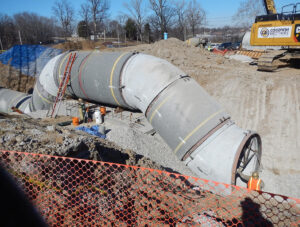 Municipal Water Leader: How does concrete pressure pipe differ from other options that municipalities might use? 
Richard Mueller: The beauty of reinforced concrete is that cement paste has a very high pH, which causes an iron oxide film to develop on steel. We have steel in our pipe wall, and the iron oxide that forms when the steel is encased in the concrete really passivates it from corrosion—that is, makes it corrosion resistant. Think of corrosion as the action of a battery. With mortar-coated or concrete-coated steel, you have to get about a volt and a half of current potential before you're going to get current on and off the pipe. That typically does not happen for buried concrete pipe. In addition to the built-in corrosion resistance, the combination of the compressive strength and relative low cost of concrete and the ductility and tensile strength of steel provides a pipe material that is very cost effective. 
Also, with concrete pressure pipe, we get most of the strength of the installed pipe-and-soil structure from the pipe, which is easily inspected in the manufacturing plant, rather than depending too much on the placement and inspection of soil around the pipe. So we don't have to worry as much about field installation or shoddy contractors as would be the case if we were installing more flexible pipe that depended on side-fill soil support to hold up the external load. Because the pipe is thicker, it is also easier to pick up, put on a truck, and transport to the job site without damage. 
All ACPPA members must have their plants audited annually by Lloyd's Register to make sure that they are manufacturing pipe in accordance with AWWA standards. Around 1990, we went through the concrete pressure pipe standards and really dissected them to enhance the quality characteristics of the pipe. Once the standards were upgraded, we wanted to make sure that any member of the ACPPA was meeting those standards. Hence, we require an annual audit of each of the plants used to manufacture concrete pressure pipe to make sure that they're reviewing the customers' requirements and manufacturing pipe in accordance with those as well as AWWA standards. 
We have a technical committee that reviews the applicable AWWA and ASTM standards on a regular basis. Each of those associations reviews its standards on a 4- or 5-year basis. Before the AWWA or ASTM review comes up, the members of our association get together and discuss whether anything needs to be changed or upgraded and then propose those changes. All our companies have an active member on those committees in the AWWA and the ASTM. 
Municipal Water Leader: What trends do you see in the market for concrete pressure pipe? 
Richard Mueller: Historically, prestressed pipe was developed in the eastern half of the United States and bar-wrapped concrete cylinder pipe was developed in the West. Prestressed pipe was used in larger-diameter pipe in the West—48 inches in diameter or so—and bar-wrapped pipe was used for smaller pipe. However, I now see more bar-wrapped pipe being manufactured in the eastern half of the United States. 
There is a continuing trend toward water use efficiency. That's been a two-edged sword for the utilities, because while they want to better use scarce water resources, they need to be able to fund improvements to their water systems, and when customers use less water, they pay less. Much of the current infrastructure in the United States is beyond its design life and will have to be replaced. A typical design life for old pipe was somewhere on the order of 50– 75 years, depending on where you put it, but some of those pipelines can last 100–150 years. If you're in a more benign environment from a corrosion standpoint, you're not going to lose all that material in a hurry. In moist soil, concrete pipe will last a long time—nearly indefinitely. However, it may have to be replaced by larger pipe if a city is growing. Replacements on the grounds of both age and growth are going to pose a financial challenge. 
Municipal Water Leader: What is your message to Congress? 
Richard Mueller: Congress has a limited but important role to play in water utility finance. One thing it has provided is the state revolving funds. Especially at times when we're trying to balance the budget, allowing the states to fund infrastructure and increasing the amount of money they have is a big deal. The Water Infrastructure Finance and Innovation Act was instituted a few years ago and was finally funded. People are falling all over themselves to gain access to it. Removing some of the tax penalties on loans for capital investments is also important for the industry. By and large, the people who finance water utilities are ratepayers. Congress needs to help them. Smaller municipalities or agencies are often a long way from water, and infrastructure is expensive. 
Municipal Water Leader: What is your vision for the future? 
Richard Mueller: Our members have different approaches to solving a problem. As the industry has consolidated, it has made it a little easier to come to a consensus. Over the last 45– 50 years, we have answered a lot of questions with our research into corrosion and materials. I see us continuing to automate. We're going to continue to provide improvements in materials. I expect our materials to serve in the field for longer and longer. Even though replacing utilities costs money, overall, we're going to get more bang for the buck because the utilities that we put in place today are going to last longer and provide better service. For the long term, we're getting an even better product to the market. As time goes on, we're going to achieve better coordination between the pipe suppliers and the engineers so that pipe will be more cost effective and longer lived in the soil for which it is designed. 
Richard Mueller, P.E. is president of the American Concrete Pressure Pipe Association. He can be contacted at rmueller@acppa.org or
(714) 801-0298.