Researchers in the Water Policy Program at Duke University's Nicholas Institute for Environmental Policy Solutions harness data to inform water policy. By identifying and collecting data on topics such as water utility rates, reservoir operations, and water quality and then making the data available in a uniform format, the Nicholas Institute advances scientific research and enables concerned citizens to inform themselves on important health issues. In this interview, Martin Doyle, the director of the Water Policy Program at the Nicholas Institute and a professor at the Nicholas School of the Environment, tells Municipal Water Leader about the institute's work, its Internet of Water project, and its mission to make water data more accessible and user-friendly to everyone from utility managers to citizen scientists. 
[siteorigin_widget class="SiteOrigin_Widget_Headline_Widget"][/siteorigin_widget]
Municipal Water Leader: Please tell us about your background and how you came to be in your current position. 
Martin Doyle: I'm trained as a hydraulic engineer and hydrologist. I got my master's degree in engineering from the University of Mississippi and my PhD in earth science from Purdue University. I taught at the University of North Carolina at Chapel Hill for about 10 years, and I've been at Duke University for 10 years. I have a joint appointment at Duke. I am director of the Water Policy Program at the Nicholas Institute for Environmental Policy Solutions, an environmental policy think tank. I am also a professor at the Nicholas School of the Environment, where I run the degree program for water resources management students, from which about 20 students per year graduate with a master's in water resources management. I also teach classes in hydrology and water infrastructure finance. 
Municipal Water Leader: Would you tell us about the Nicholas Institute's Water Policy Program? 
Martin Doyle: The Water Policy Program is an interdisciplinary effort focused on using data to inform effective policy changes in how water is understood and managed. Our general approach is to start by assembling large data sets and then using them as a lens through which to look at policy. We have focused on the management of and financing of federal infrastructure, especially at the Bureau of Reclamation. We've spent a lot of time looking at how reservoir storage capacity is allocated by the U.S. Army Corps of Engineers. Our current work is focused on municipal water affordability. We have researchers who focus specifically on policy development in the water space and data scientists who create large-scale data sets related to water management. Then we use those data sets to look at how different policy options may affect future water resources, and vice versa—how future water conditions may affect water policy options. 
Municipal Water Leader: How do you identify the proper audience for your message and make sure that it reaches them? 
Martin Doyle: That is the key question. We often find that state agencies are willing partners who are interested in insights, new data analysis, or new policies. From there, we can scale our message up to the federal government, scale it down to the local government, or translate it for the private sector. People in state-level divisions of water resources or divisions of environmental quality are often our target audience, because they have to keep their eyes on the entire range of conditions and management options across their states. 
Municipal Water Leader: Please tell us more about your work on municipal water pricing. 
Martin Doyle: Over the past couple of years, we have focused on trying to quantify the affordability of municipal water. All of us pay a water bill, but for some households in the United States, it's a challenge. We looked at an enormous amount of data on rate structures and municipal water service areas. Then one of my water data scientists, Lauren Patterson, came up with a clever way of combining a few public data sources to quantify a metric of water affordability at the block scale across the United States. We've applied this municipal water affordability metric to about 3,500 water utilities across the United States. That granularity has been a game-changer for understanding the scope of the problem of water affordability in the United States. 
Municipal Water Leader: Who is the audience for that project? 
Martin Doyle: This project is targeted at municipal water leaders, mainly utility directors and finance directors from utility boards—the people who are responsible for setting rates. The other groups that we know are using it are investors and community activist groups that advocate on behalf of subsets of the population. Investors are starting to look at the affordability of utility bills as one factor in determining the risk of municipal bonds. 
Municipal Water Leader: Tell us more about your work with the Army Corps. 
Martin Doyle: Since the water sector is so fragmented, one of the things that we try to do is collate data policies and practices so that they can be looked at consistently, and states or entities can see how other states or entities are managing their water. The Army Corps works on a federal model and is structured into several dozen districts. North Carolina, where I live, is in the Wilmington District. The Wilmington District is separate from the Savannah District, which is separate from the Mobile District. Each of these districts manages and operates its infrastructure slightly differently from the others. We were mainly interested in how reservoirs are operated and how different districts of the Army Corps manage their reservoirs in terms of storage, focusing especially on whether and how they are changing their storage practices in the face of climate change. We assembled a database of reservoir operations from across the United States and looked at how different districts made decisions. This web-based visualization tool allows users to interact with the reservoir data and really see how different districts operate their infrastructure. This information also helps us better understand how these different practices vary from one district or region of the United States to another. 
Municipal Water Leader: Is this information publicly available? 
Martin Doyle: Yes, our dashboards and the database they were built upon are public and can be accessed on the Nicholas Institute website, nicholasinstitute.duke.edu. We collect the data, curate them as much as we can, and then put them online. Usually, we publish our code as well. Anybody can download the data and the code and do whatever they want with them. 
Municipal Water Leader: Please tell us about your project called the Internet of Water. 
Martin Doyle: Although all kinds of information is available on the internet, it is difficult for people to find out whether the water in their local utility is safe to drink. Even though that information is collected regularly and is intended for public use, the basic architecture of the water data management system in the United States, especially at the municipal level, is archaic. Our overall idea was that if we want to modernize water management, we need to start by modernizing water data. The Internet of Water is as much about behavior and social processes as it is about technology. We have a couple of people who spend their time engaging with governments at the local, state, and federal levels to get agencies, entities, and utilities to start modernizing their water data management systems. Some states—California, New Mexico, and Oregon, for example—have passed water data modernization laws. These states and relevant agencies are putting resources into it, but more importantly, they are requiring their agencies to manage data in consistent ways. 
Municipal Water Leader: In addition to making it possible for the average person to look up water quality data, your datasets would let scientists study those results, correct? 
Martin Doyle: Very much so. We want to make the data easily findable, accessible, and interoperable. We're just trying to get it out there in a modern format. Obviously, scientists are good at working with big, messy datasets, and they often have the technical skills to work with big data. But other groups need the data to be more approachable and digestible. For instance, citizen science groups have also started to use the data to make sure that regulations are being followed. There is a range of groups that can't work with water data right now because, in its current format, it's just too difficult to find the data and make sense of them all.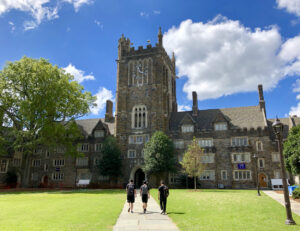 Municipal Water Leader: How does the recently passed Infrastructure Investment and Jobs Act, known as the Bipartisan Infrastructure Law, promote the modernization of water data? 
Martin Doyle: It was a big surprise to us. The infrastructure law includes the authorization of a pilot project on water data modernization. About $15 million would go to states to invest in the modernization of data. If the pilot program is appropriated, and we think it will be, states that get the money will follow the principles for modernizing water data established by the Internet of Water. 
Municipal Water Leader: How does your work at the Nicholas Institute intersect with what is taught at the Nicholas School? 
Martin Doyle: Many students these days are interested in the practice and policy side of water, not just in science and engineering. They find it interesting when we share what we're working on at the Nicholas Institute. We hire students at the institute, and they do an enormous amount of work. They're clever and creative, and they contribute new ideas. It's a treat for me when, years later, I run into students who worked for me, and they're working in a professional setting, whether at a water utility, at a consulting firm, or in the federal government. 
Municipal Water Leader: What is your vision for the future of the Nicholas Institute, the Water Policy Program, and your field in general? 
Martin Doyle: Well, I think the thing that we're starting to keep an eye on is disasters. Natural disasters are important, as they reshape everything that we do. We might do a lot of planning and have good policy ideas, but if a big disaster hits, everything we've been working on might get thrown out the window. The other big thing that my group is starting to focus on is what we're calling utility disasters—events like the algal bloom in Toledo or the contamination of the water in Flint. These are important because they can affect municipal water systems as much as a natural disaster and require us to make a lot of decisions and changes in a short period of time, and many of these changes become permanent afterward. We need to start thinking of these nonweather disasters on the same scale as we do natural disasters. 
Martin Doyle is the director of the Water Policy Program at Duke University's Nicholas Institute for Environmental Policy Solutions and a professor at the Nicholas School of the Environment. For more about the Nicholas Institute, visit nicholasinstitute.duke.edu.