In October 2018, Hurricane Michael, a category 5 storm, made landfall at Bay County, Florida, with devastating impact. The storm surge, winds, and rain destroyed property and endangered human life. The effects on Bay County's water infrastructure were also serious. A water main was ruptured, commercial power was knocked out, cell phone service was disabled, roads were blocked, and municipal buildings were damaged. Nevertheless, within 7 days, Bay County was able to resume its wholesale water service to all points of delivery.
In this interview, Benjamin Blitch, the Bay County utility director, Trevor Noble, the Bay County utility assistant director, and Bobby Gibbs, the Bay County Water Division superintendent, speak with Municipal Water LeaderEditor-in-Chief Kris Polly about the experience of recovering from Hurricane Michael and the lessons the county agencies have learned from it.
[siteorigin_widget class="SiteOrigin_Widget_Headline_Widget"][/siteorigin_widget]
Kris Polly: Please tell us about your backgrounds and how you came to be in your current positions.
Benjamin Blitch: I'm a professional engineer. I graduated from Florida State University (FSU) in 2005. I worked
for a private engineering company for 10 years or so before going to the Florida Department of Environmental Protection (DEP) in 2013 to serve as the assistant director of the Northwest District. In 2015, I left the DEP to take the position of Bay County utility director.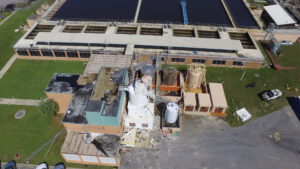 Trevor Noble: I have had a pretty similar path. I graduated with an engineering degree from FSU in 2008 and worked for a private engineering firm for 8 years before going to the Florida DEP in 2013 to serve as the source and drinking water program administrator. In 2015, I took a position as the public works director for the City of Callaway. In 2016, I came over to Bay County as assistant utility director.
Bobby Gibbs: I started working in the water industry in 1977. I started as a maintenance mechanic at a water treatment plant in Louisiana. After 2 years, I took a position as a plant operator, which I remained in for over 20 years. I later took the lab manager position before taking the superintendent position. I retired in 2009 after 33 years and moved to Florida. However, my retirement was short. I began working for Bay County as chief operator in 2010 and became water division superintendent in 2015.
Kris Polly: Please tell us about Bay County's Water Division.
Trevor Noble: We own and operate the only surface water plant in the county. We provide water wholesale to seven municipalities and one air force base. Out of the seven municipalities, Lynn Haven is the only one that produces water. They have a well system that provides approximately 80 percent of their water demand; the county supplies the remaining 20 percent. We are the sole water source for unincorporated Bay County, Callaway, Mexico Beach, Panama City, Panama City Beach, Parker, Springfield, and Tyndall Air Force Base. We serve approximately 150,000 citizens.
Bobby Gibbs: As Trevor mentioned, our plant is a surface water plant, one of only a few in the state of Florida. Bay County's water source is the Deer Point Reservoir, a spring-fed reservoir created by the Florida legislature in 1961. The system has two raw water pump stations with a pumping capacity of approximately 75 million gallons per day (MGD) and a treatment plant designed to handle 60 MGD. The distribution system comprises approximately 575 miles of pipe with 74 points of delivery to service our wholesale customers.
Kris Polly: Would you tell us about your experience during Hurricane Michael?
Trevor Noble: During a hurricane, our tier 1 employees, who comprise 70–80 percent of our staff, stay onsite at the plant or at one of our other facilities. They include water and wastewater operators, maintenance and instrument and electrical (I&E) technicians, and distribution and collection technicians. After the storm, all of those employees are ready to respond. When the storm hit,
Ben and I were stationed at the emergency operations center (EOC). The EOC is where core county leadership responds during emergencies. The staff, including Bobby and the other supervisors and superintendents, were at their respective plants.
On Wednesday, October 10, around 10:00 a.m., the weather took a turn for the worse. That lasted until about 3:30 or 4:00 p.m. However, at 12:30 p.m., as we were trying to maintain flows to the transmission mains, we started experiencing very high demand, which we were unable to meet. This led us to believe that there was a massive leak or break somewhere. Our operators made the decision to shut down our high-service pumps, resulting in a loss of pressure in our transmission mains. At that point, everyone just buckled down and waited for the storm to pass. Once the storm receded, the guys were able to begin assessing the damage and identifying what worked and what didn't. I'll tell you that there was more of the latter! Debris and downed trees impeded our ability to access our remote sites, but armed with chainsaws and heavy equipment and aided by the National Guard, our employees were able to get to our high-priority sites within hours.
We had not understood how vulnerable our buildings were. During Hurricane Michael, about 90 percent of our buildings suffered substantial damage. Luckily, no one was injured, but we did have a few close calls. Most of our buildings protect critical equipment, like generators and switchgears, and our operations building houses our supervisory control and data acquisition (SCADA) computers along with other critical equipment. You can imagine the challenges of losing commercial power, suffering damage to our generators and switchgears, and losing SCADA controls. We are proud of how quickly our guys were able to adapt and respond. This leads me to the most important lesson we learned: You have to trust your staff development and trust that you have the right people in the right positions and then turn them loose to do what they need to do. There is no way you can micromanage a situation like a hurricane. I think that is why we were so successful. We have a highly engaged staff, from top to bottom. They all know what needs to be done, and they just do it.
Benjamin Blitch: As Trevor mentioned, our buildings and roofs sustained catastrophic damage, especially the main plant operations building. Once the operations supervisor made the decision to shut the plant down at 12:30, everyone moved to an interior office for next couple of hours. Immediately after the storm, the operators and the I&E team were able to move several laptop computers into the administrative building and within hours set up plant operations in Mr. Gibbs's office.
Trevor Noble: One major challenge was communication. During the storm, we lost all cell service. I was not able to communicate with anybody at the plant—in fact, I was only able to communicate with people face to face. In response, we developed a runner system. People would come to see me at the EOC in the morning and I would give them information to take to the water plant. However, what was normally a 20-minute trip to the water plant took 3–4 hours because of traffic, fallen trees, and road and bridge closures. There was a constant flow of runners to and from the EOC, taking messages elsewhere and returning to brief us. It was archaic and extremely challenging. Our I&E folks were able to get our 800-megahertz radios up and running on the second day, which helped overcome the communication shortfall.
Bobby Gibbs: Losing the ability to contact staff and know whether they were safe was troubling. Once the worst of the storm had passed, each group made it outside and began checking in with the other staff members onsite. To our surprise and relief, there were no injuries. However, extensive damage could be seen everywhere. Our staff quickly put together groups to do specific tasks, including checking the water system equipment, clearing roadways of debris, repairing roofs, and checking on our staff members' families. Because a category 5 hurricane was not expected, most of our staff had family members who had stayed in their homes.
Trevor Noble: As we completed our initial facilities inspections and realized that our lower pumping station would be out of commission for several days, we moved to our northern pump station, which is located along a spring-fed creek in a rural part of the county. The National Guard cleared miles of roadway to help us gain access to it. We also had staff helping with bulldozers and chainsaws. Fortunately, the pumps just needed to be reset. The generators were on and the pump station didn't appear to be damaged. We were able to reset the pumps and start pumping raw water at about 11:30 p.m. on Thursday. We were sending water to the treatment facility within 36 hours.
In the meantime, our operators, I&E technicians, and maintenance staff were inspecting the chemical pumps and electrical buildings at the plant and trying to keep the generators working, since there was no commercial power. They took that 36-hour window to make sure that once we got raw water, our treatment facilities were ready to go. It was an amazing feat, considering the challenges they were faced with.
Our generators have a limited fuel capacity, and some of our facilities needed to be refueled daily. We relied on our county resources, specifically Lieutenant Ben Collier of the Bay County Fire Department and Emergency Medical Services, to make sure our facilities were refueled and operational. It helped that we had the burn rates and knew how long we could expect our fuel stores to last.
When you lose commercial power, the switchgear automatically switches to generator power. The roof of the electrical room took quite a bit of damage, and there was water leaking on the switchgear. We had to get drying units in there and dry it out so that it would be safe to manually flip the switch. Commercial power was restored on October 28.
As far as responding to our challenges within the water distribution system, there's an organization called Florida's Water/Wastewater Agency Response Network, known as FlaWARN, which is a formalized system of utilities helping other utilities during emergency situations. By Sunday, we had a total of 60 people from 7 different utilities at our disposal to help us with our distribution system.
Our system has three large transmission mains that supply 74 points of delivery. Our crews had to reach and isolate all 74 valves before we could pressurize and test those lines to make sure we were capable of delivering water to our wholesale customers. That took 2 days. We then had to systematically go through our retail distribution system, opening it up a little bit at a time, and identifying and fixing leaks. The valves are located in boxes next to the road, and we had to move fallen trees and debris with bulldozers and heavy equipment to reach them. We completed the review of our distribution system on Thursday evening, meaning that within 8 days, we had evaluated our entire transmission and distribution systems, identifying and fixing hundreds of leaks. Most of the leaks were small, but one 16-inch transmission main within Mexico Beach's infrastructure had ruptured. That was likely the cause of the large increase in our demand during the storm.
Benjamin Blitch: As a result of the knowledge, dedication, and personal sacrifice of the entire utility department, treated water was available to all the wholesale system's points of delivery in 8 days. It is important to recognize the personal sacrifice of the entire team. Everyone's homes were damaged; many suffered total losses. With cell service out, we were unable to communicate with our families. Despite all that, everyone's primary goal was to restore water to the citizens of Bay County, and they did so in fine form.
Kris Polly: Were there any concerns about drinking water contamination?
Bobby Gibbs: Yes. The day of the storm, Bay County issued a precautionary boil water notice from the county's EOC using the Alert Bay notification system. We had never shut down our facility completely before, but pressure issues caused by Hurricane Michael left us no choice. The plant's generators had been on for 3 days with minimal problems, but when we tried starting the plant, they began experiencing multiple issues, resulting in an inconsistent power feed that caused the plant to shut down repeatedly. This caused numerous chemical-feed issues that resulted in a treatment-technique excursion in turbidity that lasted approximately 6 hours. Since we were already under a
boil water notice, this was not a big concern. Our biggest concern was refilling the plant storage tanks and making sure water would be available once the pumps were ready to go.
Kris Polly: What ongoing recovery efforts is the division engaged in today?
Trevor Noble: Fifteen days or so after the storm, we reached out to an engineering firm, Carollo Engineers, to discuss
a poststorm damage assessment. The U.S. Environmental Protection Agency, the Federal Emergency Management Agency, and the Florida DEP all had boots on the ground right after the storm. Since Ben and I come from the regulatory world, we felt it was necessary for them to be at the EOC with us to see what we were doing and to make sure we were taking the appropriate measures. Getting Carollo Engineers involved shortly after allowed us to hit the ground running on the damage assessments of our plants and infrastructure. They're currently wrapping up the assessment of one of our wastewater plants. In the meantime, we're fixing things as needed. For all intents and purposes, it has been business as usual ever since we rescinded the boil water notice.
Kris Polly: Would you tell us a bit more about your plans to protect against future hurricanes and storms?
Trevor Noble: We are hardening our infrastructure. To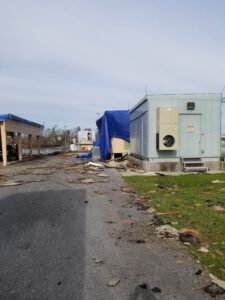 give one example, as we repair the buildings that were damaged, we are hardening them to the standard of the Miami-Dade code, which requires that buildings be able to withstand winds of 184 miles per hour. We could have just thrown the roofs back on, but our analysis indicated that bringing our buildings up to the Miami-Dade code would cost only 5–15 percent more. It was a no brainer, especially since those buildings house staff, generators, electrical switchgears, and other critical equipment.
Bobby Gibbs: Every year, at the beginning of the hurricane season on June 1, all our staff have to read and sign our emergency response plan. That plan contains all the preparations that are needed if we have a named storm. There are checklists of all the things that have to be done 72, 48, and 24 hours before the storm hits. The plan is pretty extensive, and for the most part, we haven't identified too many holes in it.
However, none of us had ever been through anything like Hurricane Michael, and it brought to our attention some gaps in our pre- and poststorm response plans. We now know what to expect from a category 5 hurricane. Our staff ended up being onsite for 7–8 days without any way to wash their clothes or take showers. We did not have bottled water. We thought that since we were at a water plant we would have plenty of water, but that was not the case.
During this year's hurricane meeting, our staff decided to acquire plenty of ready-to-eat meals, bottled water, a stocked refrigerator and freezer, a washer and dryer, and additional cots.
Trevor Noble: As we redesign our buildings, we will be contracting with an architect to help us design our operations building at the water plant to include kitchens, a laundry facility, and rooms with bunk beds or Murphy beds.
It is important to be prepared for losing your computer. Our computers' geographic information system program had all our valve locations, manholes, pipe sizes, and other information about our infrastructure. Without the computers, we had to work off of our staff 's knowledge. We're going to be making PDF maps, lists of vendor contacts, and other information to be put on thumb drives so that we can have access to it if we lose our computers in the future.
Kris Polly: What is your vision for the future?
Trevor Noble: In my perspective, the future is bright. We're storm tested now, and we know what areas need to be fine tuned. There is a lot of communication within our leadership team about what we need to do to move forward. We have the utmost confidence in our staff. We tell our guys all the time that we are a resource for them. If they tell us what they need, we will get it for them. That's basically how it happened. Bobby was one of the main leaders here at the plant running the show, along with Robert Hall, our maintenance superintendent. As they identified needs, they submitted requests to Ben and me at the EOC to fulfill. I am more confident than ever moving forward.
Bobby Gibbs: With the changes we have made to our prestorm and poststorm plans, our staff is better prepared this hurricane season. Bay County's staff demonstrated great teamwork during Hurricane Michael, and we are confident in our abilities to handle future storm events.
Benjamin Blitch is the Bay County utility director. He can be contacted at bblitch@baycountyfl.gov or at (850) 248-5021. Trevor Noble is the Bay County utility assistant director. He can be contacted at tnoble@baycountyfl.gov or at (850) 248-2034. Bobby Gibbs is the Bay County Water Division superintendent. He can be contacted at bgibbs@baycountyfl.gov or at (850) 248-5029.