Assura Software is a Christchurch, New Zealand–based technology company that builds highly configurable asset- and case-management solutions. Its products are used by several large irrigation schemes and businesses to manage their assets and record health and safety risks and hazards. Using Assura's platform in the office on a computer or in the field on a mobile phone app, employees can keep track of what tasks need to be done and the current status of their assets.
In this interview, Assura Managing Director Hamish Howard speaks with Municipal Water Leader Editor-in-Chief Kris Polly about Assura's platform and how it stands to benefit municipal water utilities.
[siteorigin_widget class="SiteOrigin_Widget_Headline_Widget"][/siteorigin_widget]
Kris Polly: Please tell us about Assura Software. 
Hamish Howard: Assura Software is a New Zealand–based software company. I'm the managing director, a position that would be equivalent to chief executive officer in the United States. I run the business, and I'm also one of the owners. We've got solutions for a number of different business problems from complaints to management, health and safety, and asset management. They're all built on a workflow platform. It's a highly configurable solution. We don't turn up and dictate how you should manage assets or how you should handle complaints or any other business process. Instead, we ask you how you do it at the moment and then work with you on how technology might help improve the process. Then when we put the Lego pieces of our software together to achieve that solution. 
Kris Polly: What are the main asset management problems that your clients are trying to solve? 
Hamish Howard: Most people's asset management starts and ends with their accounting system. They record their assets when they purchase them, the assets depreciate, and eventually either their book value is zero or they are sold. However, every asset has a life cycle, and during that life cycle, it may need to be audited, repaired, or serviced. There may be legislative requirements relating to health and safety. If an organization doesn't really have a process other than recording an asset in a book, log, or Excel spreadsheet, things often get forgotten or overlooked, even though the asset might be quite valuable, both in dollar terms and in terms of the potential effects of failure. 
Kris Polly: How can Assura's software help solve that problem?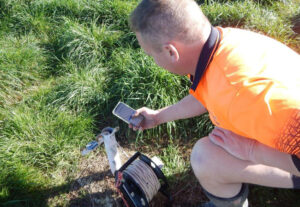 Hamish Howard: Since the solutions are built on a workflow platform, once the asset is registered in the system, life cycles can be set up. That ensures that a person or group within the business is always responsible for that asset and the maintenance tasks that need to happen during its life cycle. When they perform the tasks and update the record, that triggers the next cycle so that it happens again in the future. If those things aren't done in time, they are escalated within the system to the person's manager. Managers don't have to deal with every asset; they just see the things that aren't getting done. The software also helps increase efficiency. A water utility has assets spread out geographically. The software displays all the things that might be due to be performed in a particular area in the next week. You can do them all when you're in the area rather been coming back multiple times.
Kris Polly Your software is a platform that can be accessed both in the office and in the field, correct? 
Hamish Howard: Correct. The platform is available in a browser and there's also a mobile app, which is configurable with the web application. You can take photos, write notes, or see a list of jobs you have to perform on your phone in the field. It also works without a connection or offline. 
Kris Polly: Who are some of Assura's existing asset management clients? 
Hamish Howard: We work with a few irrigation schemes in New Zealand, which are similar to U.S. irrigation districts, including Mayfield Hinds Valetta (MHV) Water and Ashburton Lyndhurst. Their assets include pumps, ponds, pipes, and vehicles. We work with a business in New Zealand called Ryman Health Care, which builds age-care facilities, big units for retirees to live in. They use our platform for managing and locating their tools, including trucks, skill saws, and cranes, and for making sure that those assets are tested and tagged from a health and safety point of view. 
Kris Polly: How big are those companies? 
Hamish Howard: MHV Water provides water to users across about 100,000 acres, while Ryman has about 5,000 workers on construction sites. 
Kris Polly: Do you know how many assets these companies are putting into your software? 
Hamish Howard: Not precisely, but the number is certainly well into the hundreds. The system can handle up to hundreds of thousands of assets; there's really no limit. The assets can also be put into a child-parent relationship. For example, a pump might be made up of different components, each of which has its own maintenance schedule. 
Kris Polly: Would you tell us about your experience working in the U.S. market? 
Hamish Howard: I was in the United States in July for a Microsoft conference. My aim was twofold: I wanted to learn about where Microsoft was going, but I also wanted to start exploring the U.S. market for the company. We're in the early stages of discussions with a few irrigation districts about their asset management needs. These are the early days, but there is certainly good interest so far, and we're excited to learn from them and work with them. 
Kris Polly: What could Assura's asset management software offer to municipal water districts and utilities? 
Hamish Howard: If a district or agency is trying to get away from paper and spreadsheets, wants to improve the visibility and efficiency of its system, and wants to attain the certainty that the right maintenance activities are being done by the right people at the right time, we can help. One of the key characteristics of our platform is that it is configurable. I use the world configurable instead of customizable deliberately. We don't necessarily write code; our platform can be configured in a low code/no code manner. We teach people how to do that themselves. If there is additional information people want to capture or different processes they want to put in place, they can do it themselves, or we'll happily do it for them. We don't turn up and tell people how they should do asset management. We turn up and say, "How would you like to do asset management?" We can provide a starting point and the client can tell us how they want it changed to reflect their work. 
Kris Polly: So you help your clients set up the software and configure it for their companies? 
Hamish Howard: Absolutely. 
Kris Polly What would be the best way for a municipal water district to contact Assura if it is interested in working with you? 
Hamish Howard: They can have a look at our website and then contact me directly at hamish.howard@assurasoftware.com. I'm planning a trip to the United States, and I'd really appreciate the opportunity to have conversations, learn more, and see if we can add value and provide a good solution for their business.