Louisville Metropolitan Sewer District (Louisville MSD) has been providing wastewater services to Jefferson County, Kentucky, since the mid-20th century—and has some infrastructure in place that dates to the mid-1800s. While it has a venerable history, Louisville MSD is on the cutting edge. In 2019, it won the Institute for Operations Research and the Management Sciences' Franz Edelman Award for Achievement in Advanced Analytics, Operations Research, and Management Science as well as the Water Environment Foundation's (WEF) National Municipal Stormwater and Green Infrastructure Award for innovation.
In this interview, Tony Parrott, Louisville MSD's executive director, and Wesley Sydnor, its director of intergovernmental relations, speak with Municipal Water Leader about the district's real-time sewer control system, its green infrastructure, and the other ways in which it is keeping ahead of the curve.
[siteorigin_widget class="SiteOrigin_Widget_Headline_Widget"][/siteorigin_widget]
Municipal Water Leader: Please tell us about your backgrounds and how you came to be in your current positions.
Tony Parrott: I've been in the water and wastewater business for over 35 years and served in the capacity of executive director for three different utilities. I've been at Louisville MSD since 2015; prior to that, I was executive director of Cincinnati Metropolitan District for 10 years. 
Wesley Sydnor: I've been in the water and clean water industry for 20 years and have been in my current role for a little over 2 years. By education I am a civil engineer. My day-to-day work includes working with elected officials, constituents, and customers to resolve problems and to engage on a state and federal level to promote water and our work.
Municipal Water Leader: Please tell us about Louisville MSD and its history.
Tony Parrott: The district was established under Kentucky state law in 1946 to serve the residents of Jefferson County, Kentucky, and is governed by a board of directors that is appointed by the mayor of Louisville. We built our first and largest wastewater treatment plant in 1958 and have five major wastewater treatment plants today. We provide wastewater collection and treatment services, storm water management services, and flood control and management for a population of about 800,000. We have an annual capital budget of approximately $200 million a year and an operating budget of approximately $119 million a year. We have about 700 full-time employees.
Municipal Water Leader: What are the MSD's top issues today?
Tony Parrott: The biggest issue is our aging infrastructure. A lot of our sewer lines are from the original Louisville combined sewer system and date to the mid-1800s. Those systems now need repair. We also need to deal with current regulatory requirements under a federal consent decree to reduce combined sewer overflows (CSOs) and eliminate sanitary sewer overflows throughout our system.
Here in Louisville, water consumption—which is what our wastewater charges are based on—is lower today than it was in 1968 despite the fact that the population of the county has grown by well over 100,000. This means that revenue, which helps fund our capital program, is declining. You may recall that in the 1970s and 1980s, the federal government had an infrastructure grant program for new technologies through which it funded 75 percent of infrastructure replacement. Those programs are pretty much nonexistent today. The real cost of service of replacing these old assets is falling on the backs of local ratepayers, which is becoming a problem. That's why we're focusing on using new technology, innovation, and efficiencies to control our cost of service. We're also looking at how we can regionalize wastewater services by taking advantage of a new state law in Kentucky that allows us to go beyond Jefferson County and acquire assets in neighboring counties. That would allow us to take advantage of economies of scale and set up future growth opportunities for the wastewater utility.
Municipal Water Leader: Louisville MSD recently won the Franz Edelman Award for its real-time sewer control system. Would you tell us about that system and how it works?
Tony Parrott: The real-time control system came out of an alternative analysis that we did as we started to develop our response to the federal consent decree. The system then became central to our response to the consent decree and its requirements for a long-term control plan and the remediation of CSOs. As I mentioned, some of the large assets in our combined sewer system date back 150 years. These are large conveyance tunnels—some of them 25 feet in diameter. We did an assessment to see how we could use those assets to store some of the storm water during a rain event, thus making a more efficient use of our existing system. This not only reduced our capital investment by about $200 million, but it also allowed us to more effectively design the subsequent CSO projects that we had programmed into our federal consent decree, such as large storage basins. We're wrapping up our long-term control plan with a 4-mile waterway protection tunnel, which has allowed us to eliminate four basins as a part of our consent decree. The real-time control, the storage basins, and the tunnel are working collectively to help us reduce overflows and clean our waterways.
Municipal Water Leader: Was there any other new infrastructure that you had to construct?
Tony Parrott: We built pump stations and interceptors to pick up CSOs and pipe them to our basins and tunnel for storage until system capacity is available. We also made improvements upstream of our Morris Forman Waste Quality Treatment Center, which is our largest and oldest treatment plant and is where most of the CSOs go. This approach not only allows us to reduce overflows, but when storms subside, it allows us to pump the overflow back into the system so that it can be treated at the Morris Forman plant. With the real-time control and the other work we've done with our CSO program so far, we're seeing a reduction of about 6 billion gallons a year in CSOs. We've also seen a significant improvement in the quality of the Ohio River as it relates to fecal coliform bacteria and suspended solids since we started these massive improvements.
Municipal Water Leader: What advice do you have for other agencies that are considering implementing a similar real-time sewer control system?
Tony Parrott: You should do an assessment of your system to see if you have large interceptors or tunnels that you can turn into storage facilities by building a retention structure or a dam. That is a way to maximize the value of the existing system. An initial assessment will also allow you to plan any subsequent construction more effectively and right-size the construction of storage projects with either real-time control or green infrastructure. Then you have to marry that with modern supervisory control and data acquisition and sensor technology so that you can remotely observe and control your operating system.
Municipal Water Leader: Louisville MSD was also awarded WEF's National Municipal Stormwater and Green Infrastructure Award for innovation in 2019. What earned you that award?
Wesley Sydnor: WEF awarded us first place in the innovation category last year. Innovation is emblematic of the DNA of the agency and our efforts to increase our level of service with fewer resources. Our green infrastructure program is a good example. The initial intent was to right-size green infrastructure projects under our consent decree. As the program has grown, it has become a partnership with other entities in the community. One of the bigger projects that has attracted a lot of interest over the last year or two was at Churchill Downs, the home of the Kentucky Derby. It did a major installation for infiltration under two large parking lots on its site, which is keeping 60 million gallons a year from getting into the combined sewer system. Outside of the combined sewer system, we have both incentives and requirements. It's taken a lot of education and cooperation with our partners to get to the point where they incorporate all these concerns into the way they develop a site, simply as a matter of course. 
One other innovation that WEF recognized is the way we use an airplane to collect thermal imagery to detect illicit discharges. We can detect hotspots, and therefore leaks. That saves us resources and labor and improves safety. We don't have to put people in every stream in the county. 
Last, in trying to do more with less, we've been very aggressive in going after partnerships and grants to fund different components of our program.
Municipal Water Leader: Are those grants from federal agencies like the Bureau of Reclamation, or are they at the state or local level?
Wesley Sydnor: We pursue any that make sense. We try to be strategic in what we go after. When we find a grant we think makes sense for our agency's mission and goals, we convene a group to decide whether to go for it.
Municipal Water Leader: What trends do you see in the water and wastewater business?
Tony Parrott: Data and sensor technology was an important component of the success of our real-time control system. Utilities are going to have to look at ways to be more innovative and adept at using different technology, research, and treatment processes, not only to meet regulations, but also to continue to protect the environment and to do it cost effectively. Water and wastewater will become more focused on innovation. I think there will also be more attention paid to different models of operating water and wastewater utilities, particularly the European model in which larger regional wastewater and water utilities take advantage of economies of scale in order to control costs for ratepayers.
Municipal Water Leader: What is your vision for the future?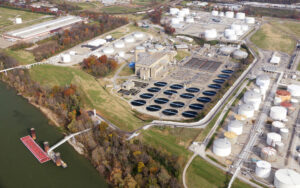 Tony Parrott: Our vision statement and my vision is that we be an innovative regional utility for safe, clean waterways, and do that by providing quality wastewater, storm water, and flood protection services to protect public health and safety, with an attitude of fiscal stewardship and the construction of strategic partnerships. Innovation is a big part of our platform, as is regionalization. More importantly, we want to make sure that we are building community confidence and support by being good stewards of ratepayer money and improving our community's environment and waterways. 
Tony Parrott is executive director of Louisville Metropolitan Sewer District. Wesley Sydnor is director of intergovernmental relations at Louisville MSD and previously ran the district's MS4 program. He can be contacted at wesley.sydnor@louisvillmsd.org. For more information about Louisville MSD, visit www.louisvillemsd.org.